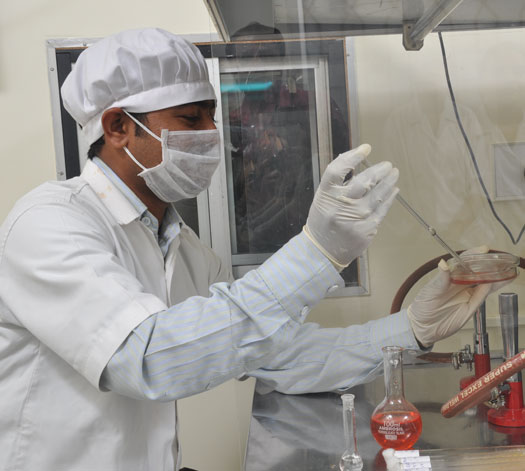 "To be a global Pharmaceutical company with state-of-art manufacturing facility to serve best quality product for saving life"
We believe in team spirit and actively rely on the knowledge, integrity, imagination, values and skills of our employees to better serve our customers. Our teamwork is power and success.
Mahendra Chemicals pursues a multi-layered growth strategy combining internal product development with WHO – GMP manufacturing. Our state-of-art manufacturing technology allows better quality product that leads the trust of our customers. Our production plant is located in Ahmedabad, India. We also plan our sales office in the near future the EU have.
The production facility of Mahendra Chemicals at GIDC Estate, Naroda, Ahmedabad, Gujarat (India), which is located 450 km from Mumbai and is well connected by rail, road and air traffic.
Mahendra Chemicals is a company manufacturing bulk specializes in the manufacture of active pharmaceutical ingredients (API) was established in 1977 started with only two anesthetics and with 30 years experience in the manufacture of bulk drugs and local anesthetics other APIs.
Mahendra Chemicals produces quality Bulk Drugs (APIs) for 30 years and also undertakes contract manufacturing jobs. Our production site is strictly built independently and autonomously according to the WHO – GMP guidelines with an emphasis on maximum safety and hygiene and properly maintained with periodic inspections and up gradations as per the requirements of the industry.
Mahendra Chemicals is a full-fledged R & D facility for process improvement, best quality produce to the global market to compete with new molecule development and expansion of production. Quality control is the key to the success of a bulk drug industry. Our unit has a well equipped quality control laboratory capable of performing all the analysis viz. analytical instruments and microbiological tests on our products. We have dedicated pilot plant for the development of new products.
Our APIs (Bulk Drugs) is used as a local anesthetic in many applications such as oral, ointment, sprays, injectables, etc. Our products are known follow all local and international standards and are from time to time according to the latest pharmacopoeia standards upgraded and in house standards. Our international customers are our strength and we are honored to be the most important part in our progress. Our products are exported worldwide.
We believe in health and good environment. Mahendra Chemicals has established a state-of-art Wastewater Treatment Facility. Our well designed ETP followed all treatment steps and achieved all the desired standards. Our well-equipped production facility will not process gases that invite workers' health and helps to maintain environment.We to be with our products and a part of us enrich human life generates.